The Bible Society Turns 200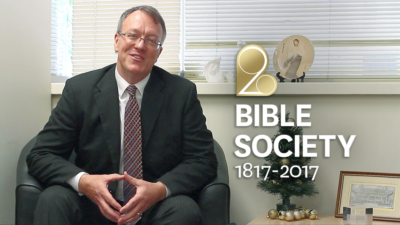 The Bible Society is Australia's oldest organisation, and this month, it turns 200. CEO Greg Clarke says it doesn't feel a day over 199. He spoke to 20Twenty's Neil Johnson about the society's achievements, the delight we can find through regular Bible reading, and how you can celebrate with them this weekend.
The Bible remains the most-read book in the world, with more than 5 billion copies in circulation. In the last 200 years, it has had a huge impact on the development of Australia, from the foundations of our legal system, to our compassion and value for human dignity. Of our 30 largest charities, 26 are inspired by the Bible. Older than Westpac Bank or the Australian Agricultural Company, the Bible Society has been instrumental in bringing the good book to every corner of the lucky country, and beyond.
Originally called the British and Foreign Bible Society, the organisation was founded in Sydney, in March 1817, by Governor Lachlan and Lady Macquarie. It grew branches throughout the states, and in 2010, the state societies merged, to become Bible Society Australia.
Its name may have changed, but its mission has remained the same over two centuries. The BSA is as committed now as ever to translating and distributing the Bible, to people who can't access it, at a price they can afford, even if that means providing it for free.
Spreading the Word
The society is currently working with the defence force, and disability groups, in hospitals, prisons and age-care facilities, even in churches in China. And translation isn't just a matter of language. The society provides Braille and audio Bibles for the visually impaired, even comic book Bibles for school children, all to ensure that everyone has equal access to God's word.
CEO Greg Clarke is very grateful to the society's supporters, who enable up to forty mission projects a year. "I think that commitment of Christian people, to ensuring that God's Word is available to their neighbours, their friends, to those in need around them, that's the thing that's sustained us throughout the 200 years."
it's impossible to establish scientifically, but Clarke believes that one in ten Australians are touched in some way by the society's work. This bicentenary is a chance to celebrate its many achievements. But it's also a chance to celebrate the Bible itself. "We want to spend the year thanking God for his provision," Clarke said, "but also helping Australians understand the role the Bible has played, and can still play, in Australian life."
The society's work is not just in Australia, however. It has a proud history of working to influence other nations. In its first ever committee meeting, the society gave half the money it had raised to overseas work. "We both want to serve Australia with the scriptures, but also recognising how blessed we are, to ensure that we work for other nations to have the same privileged access to God's word that we have."
The BSA is working with the official Chinese church on a project called Amity Press, which has just celebrated printing its 150 millionth Bible. These Bibles are distributed legally in China, but many of them are exported to us. In fact, many of our listeners today, if they open up the front page of their Bible, they'll probably see 'made in China' on the acknowledgements page."
"It really is one of the miracles of modern Christianity, from China, where the Bible used to be a banned book, it is now sending Bibles around the world."
The society is now about more than just the distribution of Bibles. It has recently brought the Centre for Public Christianity, the Koorong book chain, and the Christian publisher, Acorn Press, into the fold. Clarke is aware that, in order to understand the Bible, Christians need other voices to guide and inform their reading. "So we want to support any Christian writing that helps draw people into God's word," he said.
New Tools
Recently, the way that people read has been changing, and the society is eager to adapt to the digital world. "I'm of the view that God provides for us the tools we need to reach each generation," Clarke said. "And so in our generation, we have some incredibly powerful tools, in the internet, in mobile phones, in multi-media.
"The reach of these technologies is just astounding. We want to be on the side of good with these technologies. We want to be bringing things that will cause people to flourish, and cause them to grow deeper in their understanding of themselves, their world, and God."
"The Bible itself is easier to get than ever before," Clarke said. The YouVersion app, for example, allows you to download the Bible for free, in whatever language or translation you prefer. In the past, after the arduous process of translation, Bibles would be put on boats, then transferred via camel or cart to the jungles of the Amazon to be delivered. "Well those same people, in the jungles of the Amazon, now often have smartphones, and can download their version of the Bible, literally in seconds."
"God has provided this incredible distribution network, for the scriptures that have been translated into the languages of the world. So the job for us, as Bible societies, is to adjust our business model to cope with that, and to cause mission to flourish. We really are closer than ever before to fulfilling the great commission, of having every tribe and every nation having access to the Gospel, and the word of Christ."
To Busy for the Bible?
But though we have easy access to the Bible, many of us don't know what to do with it. Even amongst Christians, many find it difficult to keep up the habit of regular Bible reading. We make all kinds of excuses, laying the blame on work, stress, exhaustion, difficulty concentrating. The underlying theme is always the same. These days, we're too busy for the Bible.
Clarke recognises that everyone faces challenges and demands which make it hard to find space and time. But he encourages us to find creative ways to engage with scripture. On a train trip to work, we can now read the Bible on our phones, as an eBook, in our headphones, or even in videos.
"It's up to the Bible society," he said, "to convince people that it really is going to change your day if you open the scriptures, in whatever format, and dig into God's word early on."
"And this is something that our founders realised 200 years ago, that people needed to be encouraged to see that engaging with scripture wasn't an onerous duty. It was going to be a delight."
Clarke explained that the word delight came from the Psalms. The Psalms describe the troubles of King David, and the other writers, and how they all drew on God's wisdom to get through them. "The lore of the Lord was the delight of their heart," more desirable than gold, sweeter than honey. These are all wonderful expressions of what happens to you when you deeply engage with God's word."
Clarke believes that as a society, we've forgotten the delight that we can get from the Bible. "We've got this wonderful resource that can align our minds and our hearts, and help us with whatever struggles we're facing in any given day. And yet we don't draw on it."
"We haven't slowed down enough to take seriously what scripture can do in our lives, to see the perspective that you get when you hear things from God's point of view, through the Gospel lens."
Recent research from the Centre for Bible Engagement has revealed a clear relationship between Bible reading and moral behaviour. People who read from the Bible at least four times a week are significantly less likely to suffer from alcohol, pornography or gambling addiction. This is clear evidence of God's ability to improve every aspect of our lives, from our work, to our family, to our attitude, through scripture.
We are crazy to think of Bible reading as a duty, not a delight. Set aside the excuses, and make a habit of reading, or listening, or watching the word of God, and you might start to notice a miraculous change. "God has provided his word for our nourishment and encouragement," Clarke said. "And once you take that attitude to it, you become hungry to get into the word whenever you can."
Celebrating the Bible
On Sunday, March 5, the Bible Society will be holding a celebration at Sydney's Hillsong Church. The celebration will be simultaneously broadcast in many other churches across the nation, as well as streamed online, at bible.com.au.
Whether or not they take part in that celebration, Clarke wants churches across the country, large and small, to pause, and give thanks for the Bible, , and its contribution to Australia. "We'd love that to be a moment of praise and celebration," he said, "and thankfulness to God, for providing the word here, at the other end of the Earth to where Jesus roamed."
To read more about the Bible Society's bicentennial celebration, and find out where you can join in, click here.