'He's a prison-shaking Saviour' – Zach Williams
Reported by Ben Farley | vision.org.au
Monday, March 20th, 2017
The Zach Williams Chain Breaker testimony
'If you've got pain, He's a pain taker – if you feel lost, He's a way maker'
These are lyrics from contemporary Christian music artist, American Zach Williams hit single, Chain Breaker that's had plenty of air-time on Vision Radio recently.
Rise and Shine's Robbo and Becci caught up with the former rock star recently and only needed to speak to Zach in their Aussie twang to have him spill the beans about the song and his transformed life from rock star to Gospel singer song-writer sensation.
Robbo got the interview rolling by acknowledging Zach's smash hit Chain Breaker.
'I can retire after chain breaker's huge success'
"It's gone gang-busters here, there and everywhere, and it's your debut single and it's been nominated for a Grammy and bla bla bla," Robbo ranted.
Zach took his cue to speak and said he joked when eating lunch with a bunch of people from the record label, saying he was going to retire because of the huge success of the song.
"I said to them, I'll just go ahead and go out on top," Zach said, but Robbo quickly flattened that idea and suggested he needs to back it up and prove it wasn't a fluke.
Zach answered to the affirmative.
"We've got a new single coming out in April so hopefully it'll do as good as Chain Breaker has," Zach replied, before admitting the last thing on his mind when he wrote 'Chain Breaker' was the song going to number one and becoming a Grammy nomination.
'You're just writing songs from your heart'
"As a song-writer any of that stuff and I think most people are the same way, like 'you're just writing songs from your heart.' I had to write that song (Chain Breaker) because it was something I felt I needed to say about what God had done and who He is in my life," Zach recalled.
"You know, when I was writing it I wasn't trying to write a number one, I was just writing from my heart," Zach repeated, saying he wanted people to hear the message.
"I think as long as the songs come out and represent who I am, what I'm about, and who God is, then I think God does the rest of the work."
"Obviously it would be good to have a song that does as well as 'Chain Breaker' but if it doesn't it's not going to break me," Zach shared.
'I tried to justify my alcohol and drug use'
Becci then prompted Zach to tell the listeners about his dramatic conversion and the events that led up to that life-changing event.
"I toured in a band for about six and a half, seven years all over the United States and did a couple of tours in Europe. We did a USO tour for the troops in Japan."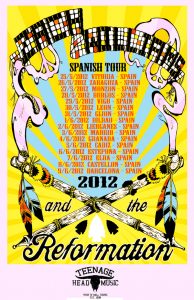 "We had some success in the band I was in. I unfortunately got caught up in the lifestyle and tried to justify my alcohol and drug use because everyone else was doing it, this is rock 'n roll, this is who I am, and this is who'll I'll be the rest of my life, but I left my wife in my early thirties and she had two small kids and we were both in a place in our lives where things needed to change," Zach said as he began to roll out his conversion testimony.
"Unfortunately it took about four years after we married for that change to happen. We were at the lowest place in our lives and I was getting ready to go off on a tour in Spain for a month and we'd started attending this church," Zach said, confessing he knew then that God was doing a work in his life.
'I hear the Big Daddy Weave song 'Redeemed'
"I honestly didn't want to go off on this tour because I didn't think I could basically walk a straight line. But I left and things went back into my usual party ways and a week into that tour I was in a bus with the bus driver scanning stations and I hear the Big Daddy Weave song 'Redeemed' come across the radio station and it just stopped me dead in my tracks," Zach said, saying it was a moment where God showed me what my life could be like if I followed Him.
Zach said that was when God asked him if this (rock 'roll life) was what he was going to do for the rest of his life with the gift He had given him. Next he called his wife.
"So I called my wife from the hotel room and said I was going to quit my band and cancel the shows. So I came home and asked God to save my life."
'God opened door after door for him'
"When everybody left for school that day I just got on my hands and knees and said, 'God if there was something in my life I could use for You I wanna do it if that means working in my father's construction company for the rest of my life and just go to church and be a good dad then I'll do that," Zach continued, and then asking God if there was something he could do for Him with his musical abilities then he wanted to do that.
Zach said God opened door after door for him which led to him travelling to Nashville and writing music.
"We wrote the song 'Chain Breaker' and the record label heard that song and offered me a record deal. So that song has pretty much launched my career and changed my life."
'Zach Williams is living proof that God is who He says He is and He's changing lives'
"And now to be a position where I can tell that story on tour with Big Daddy Weave every night and get to share that with people, and the opportunity of doing that song that's doing for them what Big Daddy Weave's song did for me is really humbling and an honour to play the type of music I'm playing now," Zach testified.
Zach concluded by saying he's living proof that God is who He says He is and He's changing lives and He's still doing that.
"That's really cool the thing I get to do now."
Footnote:
Zach Williams, who walked away from a life of drugs and rock 'n' roll to follow God's plan for his life and to share his newfound hope with others.
Husband, father, singer, songwriter, worship leader, campus director at his home church in Arkansas, and now, most recently added to Zach Williams' list of titles is GRAMMY nominated recording artist. He released his powerful debut single, "Chain Breaker," this summer to radio stations across the U.S. which quickly hit No. 1 and released a full-length album titled CHAIN BREAKER in December.