'I'm Not Flying Qantas Anymore' – Margaret Court
Ben Farley | vision.org.au
Wednesday, May 31st, 2017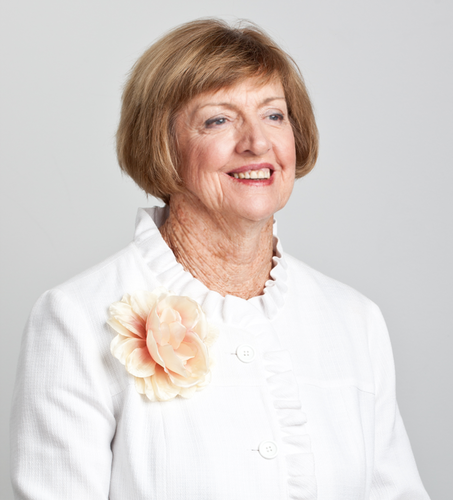 Margaret Court'This was the tennis icon's response to Qantas CEO Alan Joyce's threats to boycott companies opposed to same sex marriage'
"I've got nothing against homosexual people as individuals. But my stand for my Christian beliefs is for marriage the Bible way."
"I think it's very sad they're using (Margaret Court Arena) to try to hit below the belt."
'Margaret Court defends her stance for Biblical marriage'
The Australian tennis legend has ruffled the feathers of same sex marriage (SSM) lobbyists.
The Western Australian pastor and longtime standard bearer for Christian values has smashed a winning overhead slam, calling out Qantas CEO Alan Joyce for using his position to promote his political views.
Margaret has been unwavering on her stance, defending the Biblical teaching that defines marriage to be between a man and a woman.
'Remove Margaret's name from the arena!'
In response pro homosexual lobbyists have called for Margaret Court's name to be removed from the tennis arena that bears her name after she openly criticised Mr Joyce.
As a backgrounder, 20Twenty moderator Neil Johnson prompted Margaret to reveal the measure her tennis achievements have on her in this day and age.
"I've got to pinch myself Neil and say did I really do that? It seems so far from my life today. And even though it's a part of my life that I loved, I knew it was a gift from God even as a little girl," said Margaret, observing how life quickly passes by.
'Praise and Worship fills Margaret Court Arena'
The Margaret Court Arena at the Australian Tennis Centre in Melbourne is famous in its own right for many a memorable match encounter, but not so well recognized as the venue for a praise and worship event.
This particular occasion that took place in February was significant for Margaret for more reasons than one. If there ever was an answer to Margaret's prayers and a 'love game' that followed, this was to be it.
The Lord served up ace after ace.
'I just stood there and cried'
Even the fact that Margaret was on centre court with special guest preacher Heidi Baker. Margaret had not intended going and said it was Heidi who contacted her requesting her presence at the event organized by two young entrepreneurial Christian men.
"When I got up to speak I just stood there and cried," Margaret said. That's because she had often prayed when entering the arena to watch tennis matches, that God would be glorified.
"I prayed that one day these arenas would be filled for Christ and there I was seeing it."
"It was a wonderful thrill to see it being used in that way and I think the next time the Rod Laver arena will be full," Margaret prophesied.
'It's their way of bullying'
As far as the attack by homosexual marriage advocates for her name to be erased from court three at the arena complex, Margaret Court described it as  bullying.
"It's coming back at us when they had called us bullies or homophobic and it's their way of bullying now because I think Australia is still Judeo-Christian," said Margaret saying the gay lobby is pushing very hard.
"But I've got nothing against homosexual people as individuals. But my stand for my Christian beliefs is marriage the Bible way."
'Intimidating companies opposed to homosexual marriage'
"I think it's very sad they're using that (Margaret Court Arena) to try to hit below the belt."
Margaret explained how the issue began. It started when Queensland businessman Stuart Ballantyne, sent out an open letter, a copy of which she received but the press hadn't published.
It was Stuart's letter that brought attention to Qantas CEO Alan Joyce using the airline's clout as a platform to intimidate companies opposed to homosexual marriage.
Qantas was No 2, now No 9′
"And Stuart even went on to say that Qantas has gone from being the number 2 airline in the world to number 9. Also the 4,500 staff they've put off and the money they've lost," Margaret mentioned.
Margaret said the letter that Stuart Ballantyne had written contained all the negative statistics that have occurred during Alan Joyce's nine-year tenure as CEO.
Margaret repeated that Allan Joyce is bullying these companies threatening to boycott their products or businesses if they don't support gay marriage.
'I'm not doing it unless I go live'
"This effects our whole nation and that's what I think is very sad. We're built on a Biblical constitution. We're a Christian country and it's undermining our values and our morals," Margaret stated saying it's a minority group behind the agenda.
Next thing you know Margaret's targeted by media. But Margaret's not a tennis legend for nothing and well aware of the damage a biased media can do to a reputation as she faced down the cameras.
"I said I'm not doing it unless I go live. They would just misinterpret you or edit things and it's nothing that you've said," said Margaret.
'No honour, no respect for people'
So the media said OK and Margaret was live to air with the free-to-air channels, but she admits she made a mistake. Margaret agreed to go on Channel 10's 'The Project.' A decision she regretted.
"I went on there and it really showed me how low we have gone. No honour, no respect for people. They just want to get their opinion across and not listen to what we had to say."
"We know things go wrong in marriages but there is God's way. There are spiritual laws and natural laws. But God's laws are spiritual. And just as a police officer stops a car using a natural law, God says stop if a nation is going the wrong way," Margaret illustrated.
'No. We are not going the way of some other nations'
"You pray there is enough people who will stand up and flag this nation down and say, 'No we are not going the way of some other nations because they are having so many problems," Margaret said.
Margaret is patron of the Australian Family Association and said she is privy to information received from nations where same sex marriage has become law and the subsequent damage inflicted upon families as a result.
"We don't want our nation going that way. We're saying to them, please stop. We love the people but a wrong doesn't make a right."
'Will the Qantas board make a statement?'
As far as the Qantas conflict is concerned Margaret said she's received numerous letters from supporters for Biblical marriage who also won't be flying Qantas from now on.
What concerns Margaret Court is the fact the board of Qantas has gone to ground and has so far declined to make a statement.
"They need to make a statement and they haven't made a statement whatsoever."
"People can do what they want to do. I'm not trying to influence people but for Stuart Ballantyne and myself I feel strongly about it because it effects our nation," Margaret concluded.
Footnote:
Margaret Court, in her tennis career, won more major tennis titles than any other person in history.
She is one of our nation's greatest ever sportspeople and in the same league as the greatest sporting champions in the known world.
For the past 20 years Margaret Court has been at the helm of the Victory Life Centre, one of the biggest Churches in Perth. It's considered to be a 'mega church' with thousands of believers gathering each week.